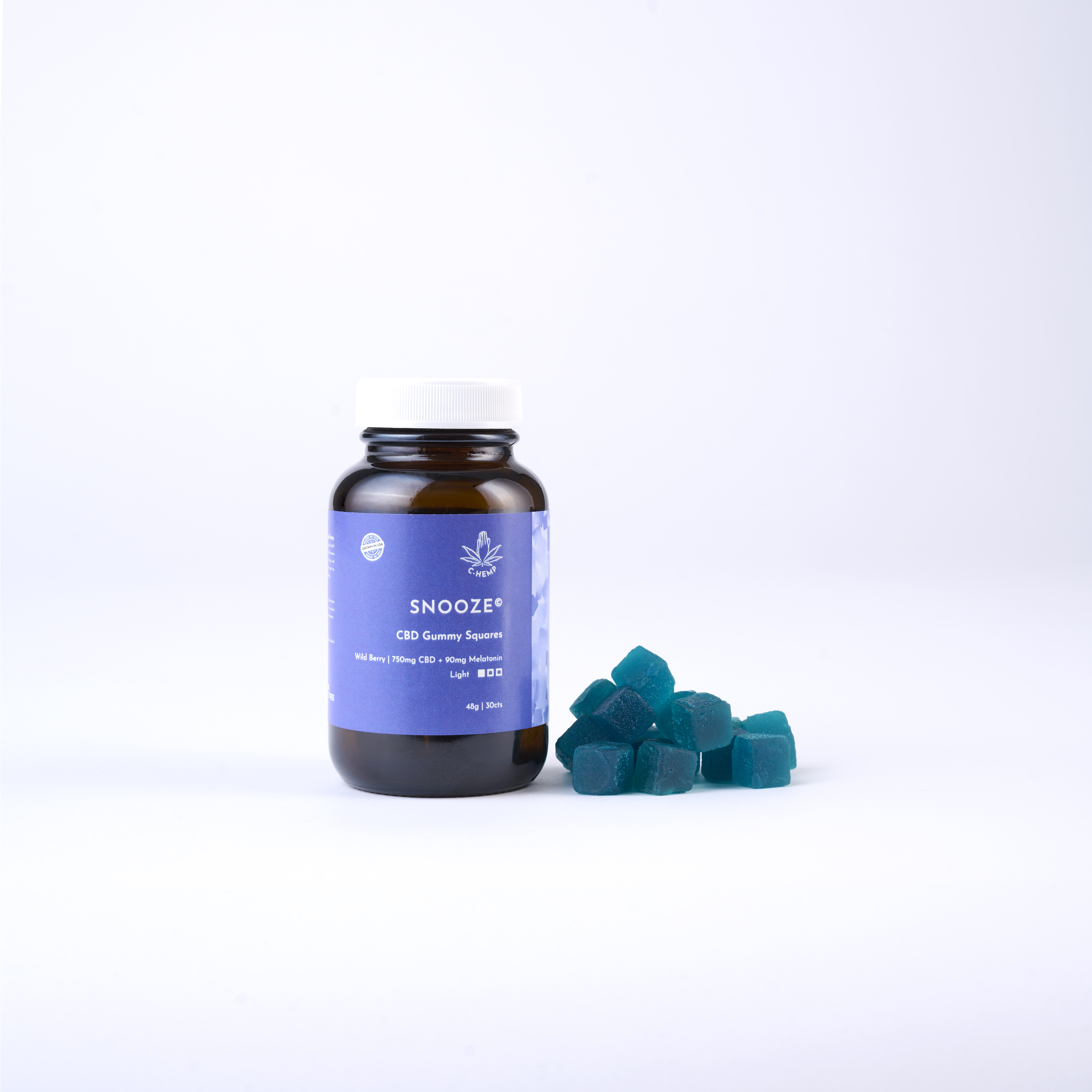 Making way for the introduction to our brand new CBD Gummy Squares! Our first expansion into the edibles range, treat your sweet tooth cravings with a late-night bite that will send you straight to deep sleep. Understand how our edibles fare differently to our tinctures, and why they might work better for you!
—
Say hello to our berry-flavoured SNOOZE Sleep Gummy Squares: a refreshing dessert alternative that also delivers all the best of CBD. Their chewy texture and balanced sweetness will satisfy your anti-savoury cravings, pairing perfectly with the wild berry flavour enticed in red and blue. These two colours contain 750mg CBD and 1350mg CBD respectively, both of which also include 90mg of added melatonin for the best snooze combo! Whilst dosage will vary from person to person, it's worth noting that each gummy contains the equal amounts of CBD based on your potency of choice, making it much easier for you to figure out the exact CBD dosage you may need.
How do ingestibles/tinctures and edibles compare in terms of CBD potency, efficacy and purpose?
When choosing between ingestible such as our oil tinctures, versus edibles, not all factors may be subject to preference. Whilst both tinctures and gummy squares are similarly discreet for consumption, these methods are also great entry point products as they tend to deliver more subtle yet sustained effects. However, oil tinctures are typically higher in CBD concentration — such as our RELAX CBD Sleep Oil with 3000mg CBD — and measured using a dropper, making it harder to measure exactly how much CBD you're taking. On the other hand, gummy squares are dosed exactly as marketed, allowing you to take a more controlled or consistent amount for every sleep. Therefore, when it comes to potency, oil tinctures may be more appropriate for intermediate CBD users or those who have consumed CBD in the past.
However, when it comes to the efficacy of delivering CBD benefits, oil tinctures do fare faster than edible products. Where gummies require some time to be broken down by our digestive and metabolic systems, oil tinctures are comparatively instant. Whilst every individual experience is unique to their own, the benefits of oil tinctures can be felt as fast as within 5 minutes, where edibles may require up to 45 minutes. Depending on your use and need for instant gratification, this might be another important factor for consideration when deciding between oils and edibles.
Both our ingestible and edibles were designed to serve as a sleep aid, but these CBD products can also be multi-purposeful in alleviating anxiety and managing pain too! CBD doesn't have to cater to one need or purpose. The product should work for you and not limit you. In fact, where CBD has yet to prove any harm, many pharmaceutical aids in the form of 'sleeping pills' have been demonstrated to exhibit side effects such as daytime drowsiness and sleep walking.
Our sleep oils and gummy squares were formulated to compliment melatonin perfectly, another ingredient that's more universally recognised as a sleep aid. Melatonin is a naturally occurring hormone in the body that exists to signal your body when it's time to sleep. Whilst this is the case for everyone, production of melatonin can also be disrupted by stress, light pollution, insomnia or alcohol, leading to sleep issues. We all know that a healthy sleep cycle is key to productive waking hours, yet so many of us underestimate the power of sleep.
—
Our long-awaited SNOOZE Gummy Squares is finally here, and C-Hemp's first edible alternative. For those of you who already enjoy our oil tinctures, we have no doubt that you'll indulge in our sweet treats too! Also the perfect gift for someone seeking the most discreet CBD routine, give them the best experience of all — restful sleep — that's also easily shareable. Sweet dreams!